Audiobook Review: Surfacing, by Kathleen Jamie
I tend to wander through the non-fiction audio section of my library's Overdrive and tag books that I might enjoy listening to while I do my daily walks. This was one of those selections, an excellent choice for walking.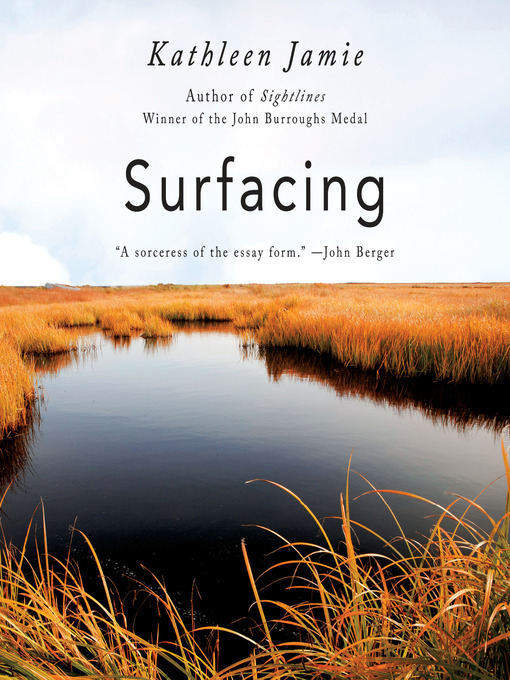 Title: Surfacing
Author: Kathleen Jamie. Read by Cathleen McCarron
Publication Info: Books on Tape, 2019, 6h 45 min. Original hardback, 2019, Sort of Books, 240 pages.
Source:Library
Publisher's Blurb:
An immersive exploration of time and place in a shrinking world, from the award-winning author of Sightlines.
In this remarkable blend of memoir, cultural history, and travelogue, poet and author Kathleen Jamie touches points on a timeline spanning millennia, and considers what surfaces and what reconnects us to our past. From the thawing tundra linking a Yup'ik village in Alaska to its hunter-gatherer past to the shifting sand dunes revealing the impressively preserved homes of neolithic farmers in Scotland, Jamie explores how the changing natural world can alter our sense of time. Most movingly, she considers, as her father dies and her children leave home, the surfacing of an older, less tethered sense of herself. In precise, luminous prose, Surfacing offers a profound sense of time passing and an antidote to all that is instant, ephemeral, unrooted.
My Review:
This collection of essays would reward a far more attentive reading than I gave it as I rambled in my local park and listened with half my mind, until something would reel back my attention and I would have to rewind five minutes, or fifteen, to pick up the thread of the archaeological excavations or a walk in the Highlands, where I could get lost until something called my attention back to where my own feet where going. And so on.

The core of the book is two long essays on extended working visits to archaeological sites--one in Alaska, and one in her own backyard, as it were, in the Orkney Islands. Each of those gives a wonderful sense of the landscape, both as it exists for those doing the digging, and as it was for those who lived there in a time long gone. In each case, a sensitive reflection is given to the people watching--the local dwellers who are literally or figuratively the descendants of the long-gone inhabitants.
Surrounding those are shorter--some much shorter--essays on everything from the flight of an eagle to aging, of ourselves and our parents.

The author's roots as a poet show in her careful choice of words, so that the essays at times read like poems. Cathleen McCarron's rendering in her Scots accent only adds to the musicality of the writing, though at times this listener from the far reaches of the US had to stop and think what she'd just said. That's not a bad thing to do in any case as the author carries us through time and space.
I'll be looking at more of Jamie's work.

My Recommendation:
An excellent collection of beautifully written essays. I will recommend for any reader, especially those with an interest in the sort of history that is dug up along windy shorelines. I'll recommend the audio book for McCarron's lovely voice, and the print book for a slower and more thoughtful contemplation of what is said.

FTC Disclosure: I borrowed an electronic copy of Surfacing from my library, and received nothing from the author or the publisher in exchange for my honest review. The opinions expressed are my own and those of no one else. I am disclosing this in accordance with the Federal Trade Commission's 16 CFR, Part 255: "Guides Concerning the Use of Endorsements and Testimonials in Advertising."
©Rebecca M. Douglass, 2023
As always, please ask permission to use any photos or text. Link-backs appreciated.
Enjoyed this post? Don't risk missing the next one--Follow us!