Audiobook Review: Beyond the Call, by Lee Trimble and Jeremy Dronfield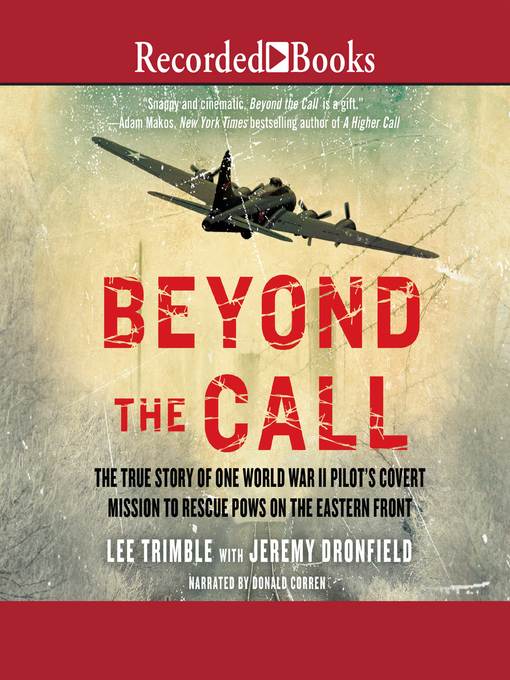 Title:
Beyond the Call: The True Story of One World War II Pilot's Covert Mission to Rescue POWs on the Eastern Front

Author:
Lee Trimble with Jeremy Dronfield. Read by Donald Corren

Publication Info: Audible Audio, 2015. 11 hours. Hardcover 2015 by Berkley, 352 pages.

Source: Library digital resources

Publisher's Blurb:
Near the end of World War II, thousands of Allied ex-POWs were abandoned to wander the war-torn Eastern Front, modern day Ukraine. With no food, shelter, or supplies, they were an army of dying men.

The Red Army had pushed the Nazis out of Russia. As they advanced across Poland, the prison camps of the Third Reich were discovered and liberated. In defiance of humanity, the freed Allied prisoners were discarded without aid. The Soviets viewed POWs as cowards, and regarded all refugees as potential spies or partisans.

The United States repeatedly offered to help recover their POWs, but were refused. With relations between the allies strained, a plan was conceived for an undercover rescue mission. In total secrecy, the OSS chose an obscure American air force detachment stationed at a Ukrainian airfield; it would provide the base and the cover for the operation. The man they picked to undertake it was veteran 8th Air Force bomber pilot Captain Robert Trimble.

With little covert training, already scarred by the trials of combat, Trimble took the mission. He would survive by wit, courage, and a determination to do some good in a terrible war. Alone he faced up to the terrifying Soviet secret police, saving hundreds of lives. At the same time he battled to come to terms with the trauma of war and find his own way home to his wife and child.

One ordinary man. One extraordinary mission. A thousand lives at stake.
This is the compelling, inspiring true story of an American hero who laid his life on the line to bring his fellow men home to safety and freedom.
My Review:
I enjoy finding books about bits of history I never heard about. This book delivered that in almost a larger dose than I wanted. It's mostly the story of one man's war--the part of the war he fought after he thought he was done, since Robert Trimble had completed his 35 bombing missions. But it's also about a much bigger issue, the question of how the US handled the USSR as the war wound down, and it's not always pretty.

Perhaps that's why I never heard more about this part of WWII in my school history classes, since I grew up in the Cold War and you'd think there'd have been a rush to tell us anything bad about the Soviet Union. But I never knew about how the Soviets treated POWs, released prisoners of the Nazi death camps, or other war refugees. Let's just say it was an eye-opener, especially how the US just walked away from a lot of our own people. I know political necessity made that inevitable, but this book tells what it looked like on the ground.
The book is well written. Lee Trimble was smart to partner with an experienced writer to tell his father's story, and the research they put into confirming Robert Trimble's story shows. Any incident they could not confirm, they make clear is based only on the elder Trimble's memory. In general, the narrative flows clearly, though at times I got confused as we jumped from one narrative line to another. Part of that is the nature of audio books, where everything relies on the listener's memory and attention.
The narration itself doesn't stand out in my mind at all--which means it was well done. In a book like this, especially, I'm all in favor of narrators who stay out of the way of the text.

My Recommendation:
A fascinating story and well worth a read, or a listen, especially for history fans.

FTC Disclosure: I borrowed an electronic copy of
Beyond the Call
from my library, and received nothing from the author or the publisher in exchange for my honest review. The opinions expressed are my own and those of no one else. I am disclosing this in accordance with the Federal Trade Commission's 16 CFR, Part 255: "Guides Concerning the Use of Endorsements and Testimonials in Advertising."
©Rebecca M. Douglass, 2021
As always, please ask permission to use any photos or text. Link-backs appreciated.
Enjoyed this post? Avoid missing out on future posts by

following us

.