Review: In Farleigh Field, by Rhys Bowen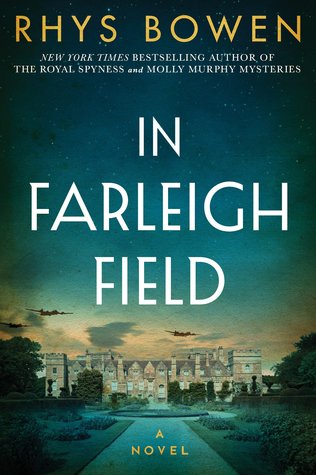 Title: In Farleigh Field
Author: Rhys Bowen
Publisher: Lake Union Publishing, 2017. 378 pages
Source: Library

Publisher's Summary:World War II comes to Farleigh Place, the ancestral home of Lord Westerham and his five daughters, when a soldier with a failed parachute falls to his death on the estate. After his uniform and possessions raise suspicions, MI5 operative and family friend Ben Cresswell is covertly tasked with determining if the man is a German spy. The assignment also offers Ben the chance to be near Lord Westerham's middle daughter, Pamela, whom he furtively loves. But Pamela has her own secret: she has taken a job at Bletchley Park, the British code-breaking facility.

As Ben follows a trail of spies and traitors, which may include another member of Pamela's family, he discovers that some within the realm have an appalling, history-altering agenda. Can he, with Pamela's help, stop them before England falls?

Inspired by the events and people of World War II, writer Rhys Bowen crafts a sweeping and riveting saga of class, family, love, and betrayal.

My Review:
I'm a big fan of Rhys Bowen, especially her light-hearted "Royal Spyness" mysteries. This book for the most part lacks the lightness of that series, but it shares with all Bowen's books meticulous research and an ability to write so that the reader feels a part of the setting. Characters are well-developed and well presented, and if the solution to the mystery seemed a little plain to me, the intricacies of how it was all worked out were well worth reading on for (and it's only fair to note that this doesn't advertise itself as a mystery, but as "a novel"). I also greatly enjoyed the close look at the conflicts that arose between the birth of the modern age and the traditions of the aristocracy during that period.

Though this book doesn't advertise itself as a mystery, it is just that, at least in part. That the main characters trying to sort out what's up with the dead parachutist can't even tell each other where they work or what they are up to does add a nice twist. As I say, the mystery wasn't terribly difficult to guess, but the progression of the story still offered a lot of suspense and interest. I read through it fast, not wanting to put it down or quit. Bowen's pretty good at doing that to me (though I'm not so keen on her Molly Murphy mysteries, her other books have all really hit the spot).

My Recommendation:
This is well-researched and well-written, and should interest any fan of WWII or of period mysteries.

FTC Disclosure: I checked In Farleigh Field out of my library, and received nothing from the writer or publisher for my honest review. The opinions expressed are my own and those of no one else. I am disclosing this in accordance with the Federal Trade Commission's 16 CFR, Part 255: "Guides Concerning the Use of Endorsements and Testimonials in Advertising."