#AtoZChallenge D is for Dolores
Following the suggestion of fellow blogger and amazing author Jemima Pett, I'm doing a very simple A to Z with characters from my writing and the books of my author friends! I'm just posting a brief profile, sometimes a quote, and the book cover with links. Though you may also see some of my typical reviews and the usual Friday Flash Fiction.
D is for Dolores
In a nutshell: Spunky and level-headed member of the Viridian System team, keen to better her situation.
Biggest secret:
Per the author: Her big secret is that she appears to be hankering after a baby even though she thinks she's infertile. Well, hankering after Pete's baby, to be specific. (Ms. Pett's comment on this rev

elation: "Is that a big secret? It surprised me.")
Favourite line:
Lars, Pete, Maggie and Dolores are travelling in alien space and have encountered a spacecraft apparently crewed entirely by females. "Why don't you guys make tea or something?" Dolores suggests, as she continues to attempt to communicate with the aliens.
Dolores features in the
Viridian System
books, by Jemima Pett. Check her out right now with the
Viridian System Sampler.
Book 1 of the series,
The Perihelix,
will be reissued around November, and work is underway on Book 2!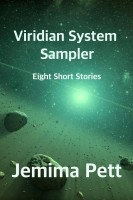 Today is also IWSG
post day!
Purpose: To share and encourage. Writers can express doubts and concerns without fear of appearing foolish or weak. Those who have been through the fire can offer assistance and guidance. It's a safe haven for insecure writers of all kinds!

Posting: The first Wednesday of every month is officially Insecure Writer's Support Group day. Post your thoughts on your own blog. Talk about your doubts and the fears you have conquered. Discuss your struggles and triumphs. Offer a word of encouragement for others who are struggling. Visit others in the group (click on the badge above for the list) and connect with your fellow writers - aim for a dozen new people each time - and return comments. This group is all about connecting!
Since I'm neck deep in the A to Z Challenge, as well as still trying to get the Pismawallops PTA #3 ready for editors, I'll use the prompt and keep it brief.
The Question: Have you taken advantage of the annual A to Z Challenge in terms of marketing, networking, publicity for your book? What were the results?
Well, as you can see if you've read my blog so far this month, the answer is yes. And of course, in a way that's what it's all about--getting noticed, and hopefully getting readers. But there's a difference between promoting your blog--which is what I've done in previous years--and promoting your books. This is my first time doing the latter, so I don't know yet if there will be results.
Because I do think we all need to stick together (and yeah, okay, because I don't have characters for every letter of the alphabet), I'm also highlighting the work of some of my fellow indie writers. Jemima Pett gets top billing, largely because this was her idea :) but you'll see some others appear, too.
I guess I'll be able to report next month if I see any spikes in sales. I'll admit I'm hoping there are--my sales have been pretty much in the area I'd call "depressing." The odd thing is, that doesn't really stop me from wanting and needing to write more books. It only bugs me when I stop to look at it. That has led me to not look, which leads to not doing much promo

tion--clearly not a good cycle to fall into!
How about you? Have

you used A to Z

t

o promote your books as well as your blog? What were the results?
©Rebecca M. Douglass, 2017
As always, please ask permission to use any photos or text. Link-backs appreciated!