Monday Mystery for Kids: Murder is Bad Manners, by Robin Stevens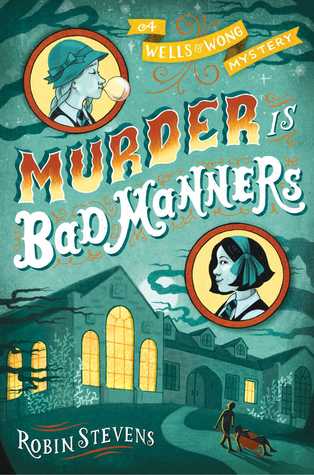 Title: Murder is Bad Manners
Author: Robin Stevens
Publisher: Simon and Schuster Books for Young Readers, 2015. 307 pages.
Source: Library digital resources
Publisher's Summary:
Deepdean School for Girls, 1934. When Daisy Wells and Hazel Wong set up their very own deadly secret detective agency, they struggle to find any truly exciting mysteries to investigate. (Unless you count the case of Lavinia's missing tie. Which they don't, really.)

But then Hazel discovers the Science Mistress, Miss Bell, lying dead in the Gym. She thinks it must all have been a terrible accident - but when she and Daisy return five minutes later, the body has disappeared. Now the girls know a murder must have taken place . . . and there's more than one person at Deepdean with a motive.

Now Hazel and Daisy not only have a murder to solve: they have to prove a murder happened in the first place. Determined to get to the bottom of the crime before the killer strikes again (and before the police can get there first, naturally), Hazel and Daisy must hunt for evidence, spy on their suspects and use all the cunning, scheming and intuition they can muster. But will they succeed? And can their friendship stand the test?
My Review:
I was tipped off to this series by a review from Jemima Pett. She got hold of the most recent book in the series, but I went off and found the first one, because that's the kind of person I am. I'm glad to have discovered them, though the idea of murder mysteries for children is an odd one.
In fact, there is nothing (aside from a corpse) to make this unsuited for older children, though in my opinion the book is just as suited to adult readers, despite the youth of the main characters. The plot was interesting, the characters (the main characters, Wells and Wong) are well-developed and their friendship has more complexity than might be expected.
The story had an interesting feel--which probably would match what the kids would feel--of being mostly a lark, right up until things get serious and the girls realize they could be in danger. Of course Hazel Wong, the narrator and the worrier of the pair, sees this first, while her friend is still wrapped up in the joy of having a real mystery to solve.
My Recommendation:
For ages 11 and up, I think. And perfect for adult mystery fans with a soft spot for those old British boarding school stories.
FTC Disclosure: I checked Murder is Bad Manners
out of my (digital) library, and received nothing from the writer or publisher in exchange for my honest review. The opinions expressed are my own and those of no one else. I am disclosing this in accordance with the Federal Trade Commission's 16 CFR, Part 255: "Guides Concerning the Use of Endorsements and Testimonials in Advertising."
###
Our Final Summer Reading Sale: For the month of August, Halitor the Hero is just 99 cents for the ebook!
Or purchase in the format of your choice from Smashwords.