Middle Grade Audiobook Review: Paperboy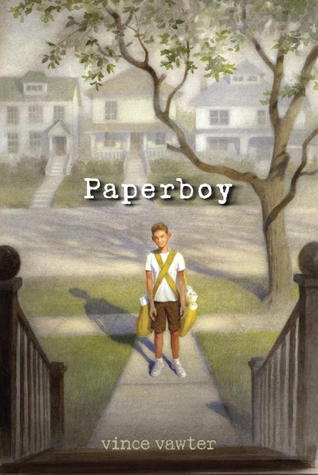 Title:
Paperboy
Author:
Vince Vawter; read by Lincoln Hoppe
Publisher:
Random House/Listening Library, 2013. 240 pages in hardcover.
Source:
Library (digital resources)
Publisher's Summary:
An 11-year-old boy living in Memphis in 1959 throws the meanest fastball in town, but talking is a whole different ball game. He can barely say a word without stuttering, not even his own name. So when he takes over his best friend's paper route for the month of July, he knows he'll be forced to communicate with the different customers, including a housewife who drinks too much and a retired merchant marine who seems to know just about everything.
My Review:
Paperboy
is a good story, though at times it feels like it's taking on too much--coming of age and stuttering might be enough without the segregation issues. But that's the life the lead character gets (and, I gather from the Author's Note at the end, the life the author got), and the story doesn't try to resolve it all. In fact, about the only thing clearly resolved is that the main character--known as "Little Man" until the final pages where he at last manages to speak his own name--does some serious growing up, as is wont to be the case around age 12.
Most of the characters in this book, aside from the narrator himself, are a little flat. That, I think, is the result of the first person narrator. Adults have little reality for a kid, beyond what intersects with the kid. The ones that matter get just enough development for an attentive (and probably adult) reader to know more of what's going on than Little Man does.
This isn't a story about a disability or bullying, though both are here. It's a coming-of-age story that happens to center on a kid with a bit more to cope with than the average 12-year-old, and I found it both exciting at times (there are some perilous moments) and in general a well-tuned evocation of a time and place and age.
Recommendation:
I'd say this is probably for 10 or 11 and up, due to a few situations that might take some explaining to younger kids.
It's also a good read for anyone who wants to feel what a Memphis summer was like in 1959. The author evokes the setting well enough that I found myself longing for the AC at times while listening--and temps at my house seldom topped 70!
FTC Disclosure: I checked
Paperboy
out of my library, and received nothing from the writer or publisher in exchange for my honest review. The opinions expressed are my own and those of no one else. I am disclosing this in accordance with the Federal Trade Commission's 16 CFR, Part 255: "Guides Concerning the Use of Endorsements and Testimonials in Advertising."
For summer reading for the grown-ups, check out my mysteries, at summer sale prices!